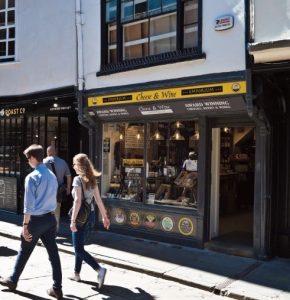 One of York's oldest shops has been let to a new business following stiff competition from a range of potential suitors.
6 Stonegate has been let to partners Dimpal Bhogal and Agnes Széchy for their new business "BAGS & BOBS", selling good quality luggage, holdalls, backpacks, briefcases, garment bags and travel 'gadgets' as well as a selection of handbags, wallets, purses and other accessories.
Dimpal has worked in retail for 17 years, and in particular in the luggage, handbags and travel accessories sector and Agnes is an Economics graduate who has worked in Marketing and Communications for several years. The launch of "BAGS & BOBS" fulfills their ambition to launch a family run business with quality and customer service at its core.
Richard Flanagan of Flanagan James Property Consultants, who advised the private owners of the property, comments "interest in this retail unit was such that we had a number of interested parties all wanting to take advantage of the excellent location and high footfall, with a local independent retailer beating off the competition which included some national retailers".
The property was previously let for 25 years to American Express which latterly traded as Kanoo Travel, and was marketed by Flanagan James at an annual rental of £28,000, and has been let on a new 6 year lease, following refurbishment by the building owners.