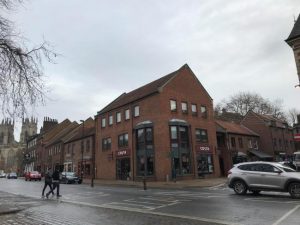 Office revamp boost for York
THE new owner of a prominent York city centre building has announced plans to fully refurbish 5,500 sq ft of offices to provide much needed business space.
Palace Capital plc bought the building in Museum Street, which includes the Costa coffee shop, offices, and seven other commercial units, as part of a £53.3 million acquisition of the RT Warren portfolio last year.
A spokesman said refurbishment specialists Key Property Solutions will start internal works at the offices next month, with completion in January.
"The refurbished offices will feature completely new, modern and up to date facilities including bright open plan offices and communal areas, and new air conditioning and lighting systems," he said.
"The building includes eight retail and cafe units in total – Costa Coffee, Demi John, two Brew and Brownie cafes, GBK, Bailey's Café, Burr Coffee and a new local business, Wilde and Westbrooke.
"This shop has just opened, selling ladies country clothing, and the deal was brokered by local commercial property agent Flanagan James."
Richard Flanagan, of the agency, said: "Before this shop unit was even being marketed, local businesswoman Laura Pipes expressed interest in taking a lease to run her new business. This proves that York remains popular for small independent retailers looking to fill a gap in the high street offer."