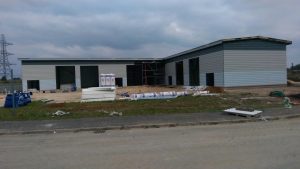 A planning application has been submitted for the first phase of a three phase development at The Rose Centre, York Business Park, York. An initial 8 of the 18 new industrial/warehouse units proposed will be built to an exacting specification to suit modern business requirements and it is anticipated that the first phase will be ready for occupation in June/July 2013. Unit sizes on this initial phase are from 1,225 sq ft (113 sq m) up to 3,060 sq ft (285 sq m) and will cater for a variety uses. Units can be combined to suit larger requirements if required.
Garry Barker, Managing Director of the developer, Rose Centre Business Park Limited comments "I am delighted to be launching this new speculative commercial property development" he continues "York continues to be a vibrant centre for small businesses and business confidence is undoubtedly improving, I am sure these new units will prove popular to opportunity for occupiers looking to either buy or rent ".
The proposed new development has already attracted significant interest as explained by marketing agent Richard Flanagan of Flanagan James Property Consultants "We have just commenced formal marketing of the scheme, and already have heads of terms out to a couple of potential purchasers who wish to take advantage of the attractive and established location". He continues "there has been little investment in this market sector over the last few years and it is refreshing to see some commercial development being undertaken to assist local businesses and therefore the local economy".
The £2.5 million Rose Centre is being marketed jointly by GVA in Leeds, and Flanagan James of York.